As a care provider it is very important to us to provide excellent services to our clients.
It's also important for us to share our experiences and best practices as care providers to other providers in the UK.
Proudly, as the UK's first (and only) LGBTQI+ adult care provider we also love to share our innovative thinking and unique approach to care.
So when our Managing Director Ramses Underhill-Smith was asked to join the National Care Forum Managers Conference, he naturally jumped at the chance.
Speaking to leaders and managers from around the country, Ramses eloquently discussed the status of the homecare industry, the challenges facing small businesses and the provision for LGBT+ seniors in the healthcare system.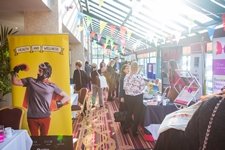 Ramses' workshop was extremely well received and enabled managers to gain detailed insight into running an LGBT+ focused organisation, drawing on his expertise and knowledge.
As an organisation we were all thrilled to be a part of the NCF Managers conference, which allowed us to spread a vital message from many who normally do not have a voice.
Please follow and like us: